What You Need To Know about Hardwood Flooring Installation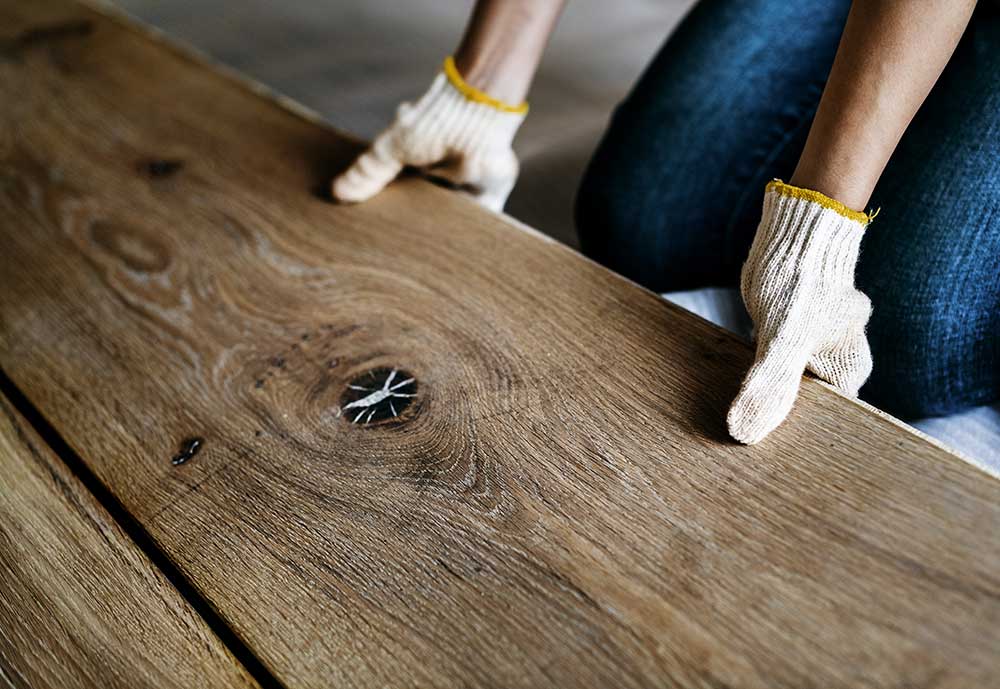 With all of the options that exist for do-it-yourself projects, one may assume that they're all pretty much the same. This could not be further from the truth. As an example, hardwood flooring might require more than a good YouTube video in the way of instruction and full comprehension of what you're up against. A hardwood flooring project can easily be derailed by nothing more than a lack of experience. If you're not careful, you might even nullify the warranty of the flooring. So, without prior experience or vast knowledge, you might want to leave the installation of hardwood flooring up to the professionals.
That said, we are going to show you a handful of tips regarding hardwood flooring installation. This way, if you are an accomplished do-it-yourselfer, you may be more likely to succeed in the pursuit of your project.
Cleaning Agents
When it comes to newly installed hardwoods, one of the biggest problems is cleaning agents. Chances are, there are flooring care instructions recommended by the manufacturer. Using the wrong cleaning agents can actually void the warranty. Always follow the manufacturer's recommended cleaning/care instructions to maintain your hardwood floors.
The Addition of VOCs
The fact that you're using a natural product increases the healthy home advantage. Don't make the mistake of using high VOC adhesives for the installation of your new floors. Your lungs and the atmosphere will thank you. We recommend using Bona R851® silane-based wood flooring adhesives as these products release zero VOC's, are GREENGUARD Certified and can be used over Radiant Heat Systems.
Subflooring Inspection
To avoid "overwood" (plank unevenness) and other associated problems, make sure that your subfloors are level, well attached, sturdy, and clean prior to installation. If you are planning to remove old flooring, remember to completely remove the old adhesive from the subfloor. If the new layer of glue contains remnants of the old adhesive, the latter may compromise the new adhesive's performance and your floors will not adhere properly. If in doubt, always read adhesive application instructions thoroughly.
Flooring Acclamation
You may run the risk of shrinkage or expansion if, at the time of installation, the flooring has not adapted to the moisture in the environment. The correct term for this process is called acclimation. It is important to begin preparations at least three to five days prior to installation. For example, store the flooring cartons in the room (open both ends) to allow for sufficient air flow. This will help the flooring products acclimate to the conditions in the room. Always refer to the Manufacturer's Installation Guidelines for proper acclimation instructions.
Figuring the Square Footage
One of the most common mistakes that people make is not ordering enough flooring tiles for the project. That's why it is better to get slightly more than what you actually need. After measuring the square footage of the work area, increase these measurements at least 7 to 10%. This practice will help reduce shortage issues. In addition, consider including stairs, hallways, closets, etc. (if applicable). Quick Pro Tip: A laser measurement device is much more accurate and quicker than a tape measure. Additionally, don't hesitate to measure at least twice. This way, you can order the correct amount of wood flooring products from the get-go.
But Before You Begin…
With all of the above already stated, one of the most important things to remember when installing hardwood flooring is to completely and thoroughly read the warranty and manufacturer's installation instructions. We can't stress this enough! With each subfloor situation and from product to product, manufacturer's installation instructions may vary.
Reading the warranty will help you not void it by something that you do either before, during, or after installation.
Shop Eko Flooring and Woodwork for organic, eco-friendly, sustainable, and high-quality flooring options. We carry hardwood flooring that can make any room in your home look renewed, refreshed, and revitalized. Why not set up a time and date at which to speak to one of our team members? Contact us today.